CLASS OF 2023 SENIORS - PLEASE READ!
As you fill out your profile, please be sure to include your post-secondary education and major, whether it be a two or four-year institution. As a school district, we like to see how our Tigers have continued their educational path.
In your profile, click More Profile Options and choose Update Post-Secondary Institutions.
DO NOT use your Harrisburg email address when you register.
Enter your college information under "My Profile" in the top-left corner of the screen.
---
HHS Hall of Fame Press Release
Aug 22, 2022
Re: Harrisburg High School HOF 2022
The Harrisburg High School Hall of Fame committee has made the decision to not have a HOF class for the year 2022.
When we started the HOF in 2013, we asked the community and past graduates from Harrisburg to nominate individuals and teams that they felt were worthy of being considered for induction. In the first two years, we received 20 to 30 deserving nominations. Since that time, we have received very few. Therefore, over the past 4 or 5 years, the nominations have come solely from the HOF committee.
While we know many more deserving individuals could be nominated, we feel that the nominees should come from the peers of the community, past students, and faculty.
For the time being, the committee has decided to have an every-other-year HOF class. If we receive enough nominees, we would like to go back to having a HOF class every year.
The committee has consisted of basically the same 6 people since its inception. Being on the committee does not take an extraordinary amount of time. We are seeking more individuals to serve on the HOF committee for two reasons. One, to bring a wider range of knowledge and opinions to the selection of future HOF nominees and inductees, and two, to share in the responsibilities of executing the process from start to finish.
We are very proud of the HHS HOF process and its members to date. To move forward and to ensure the integrity of the HOF in the future, we need your help. Ways that you can help are by becoming part of the HOF committee and by making quality nominations!
Thank you for your understanding and we look forward to your input.
To make a nomination or to become a part of the HOF committee, reach out to any of the members below.
Thank you!
Harrisburg High School HOF Committee
Rick Fink
Michelle Schirado
Jeff Drexler
Renee Rebnord
Kristi Seward
Scott Axtell
THINKING OF PLANNING A REUNION?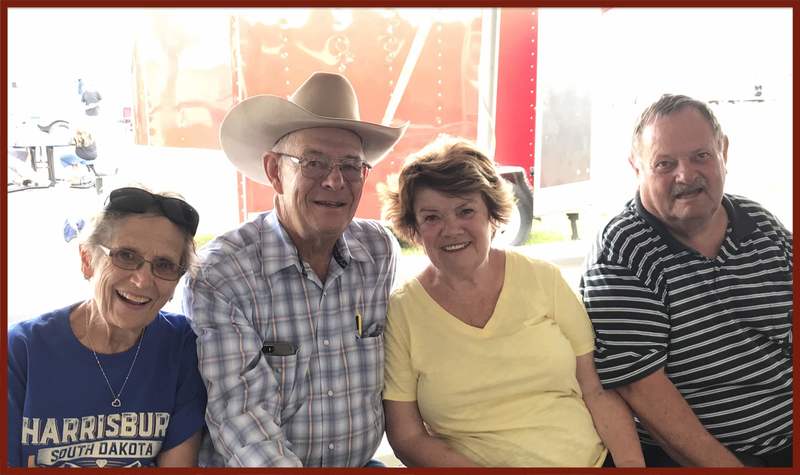 Join us for Harrisburg Days this year in June! It's the perfect time to get together with your classmates and reminisce about Harrisburg of yesteryear and see how much we've grown! If you are interested in contacting your classmates, please email JoAnne VerMulm and she will get you connected as a class agent for your graduating class.
Consider getting your class together to ride in the Community Parade on Saturday, June 12th, or the Community Pancake Breakfast on Sunday.
Harrisburg Days will take place June 11 - 13 this year. Start planning now!
For schedule and other information, please visit the website.
Class Agents Needed
Are you in the know? If you are interested in becoming a class agent for your graduating class, please contact JoAnne VerMulm, upon registering yourself as an HHS Alum! You can assist in tracking down our long-lost Tigers. 🐯
---
Remembering Dean Axtell ('49)
The Harrisburg School District is sad to hear of the passing of HHS graduate ('49) and longtime Harrisburg supporter, Dean Axtell. We were better for having known him and appreciate the Axtell Family's contribution to the Harrisburg community.
Dean Le Verne Axtell, 89, of Harrisburg, SD passed away peacefully on May 4, 2020 at the Sanford Foundation Hospice Cottage.
Dean LeVerne Axtell, son of Charles (Ed) and Helen (Grabler) Axtell, was born on March 9, 1931, on the family homestead, near Meadowview, Alberta, Canada, 80 miles northwest of Edmonton. The family moved to Harrisburg, South Dakota in March of 1937. Dean graduated from Harrisburg High School in 1949 and he was involved in baseball, basketball, band and chorus. Dean joined the S.D. Air National Guard on January 27, 1949 and he was called to active duty for the Korean War in March 1951. He was then sent to the California School of Aeronautics to become an aircraft mechanic. In August, 1953, he went to work for the SD Air National Guard full time and he retired in March 1986 as the Flight Line Supervisor of the aircraft mechanics.
Dean was united in marriage to Min Aljets on June 10, 1951 and they lived in Sioux Falls for several years before moving a home onto the family farm north of Harrisburg. They happily shared a life together for 68 years and raised their 5 children in this home. In September 1996, they decided to move off the farm and moved to Sioux Falls and then again in May, 2017 they moved back to Harrisburg to be close to their church and friends.
After Dean retired in 1986, he and Min spent 23 winters in Tucson, Arizona where they enjoyed the warmer weather, hiking, golfing and the many Guard friends who also wintered there. Dean was an instrumental part of the development of Little League baseball in Harrisburg and he coached American Legion and VFW baseball for 4 years. He served on the Harrisburg School Board for 6 years and he was a 66 year member of the Harrisburg American Legion. He was also on the Harrisburg Cemetery Board. Dean was a lifelong member of the Harrisburg United Methodist Church, where he served on many church committees and sang in the choir.
Dean is survived by his loving wife and "best partner" Min, their 5 children, Arlene (Doyle Stern) Sioux Falls, Dee (Jon Clegg ) Omaha, Kathy (Roger Wells) Omaha, Betty Jo Cox, Omaha and Scott (Maggie) Harrisburg, 11 grandchildren and 14 greatgrandchildren.
Dean is preceded in death by his parents, Ed and Helen Axtell, his brother Lloyd and his wife Eunice and their two sons, Robert and Wayne.
There will be a private family burial with a Celebration of Life service to be held at a later date.
In lieu of flowers, memorials may be directed to the Harrisburg United Methodist Church, Harrisburg American Legion Post 45, and Harrisburg Pleasant View Cemetery.
HARRISBURG HALL OF FAME NOMINATIONS BEING ACCEPTED
HALL OF FAME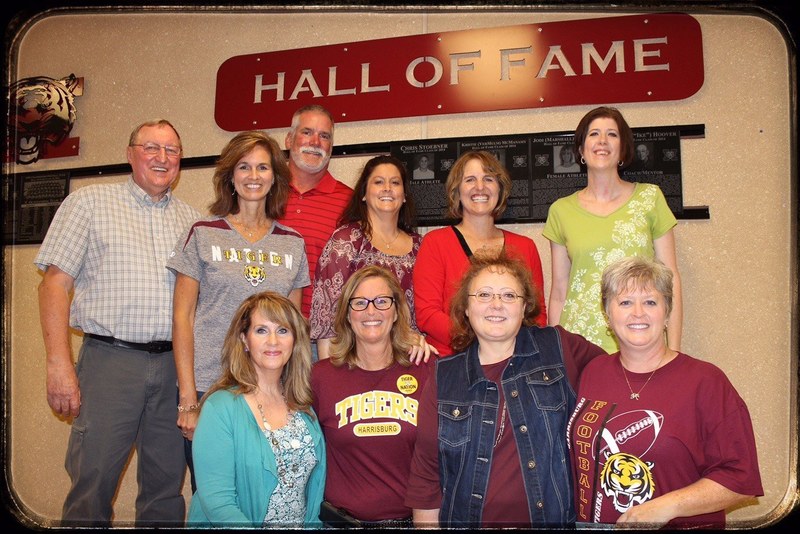 The Harrisburg High School Hall of Fame announced nominations for the Class of 2020 will be accepted through April 15.
The annual induction ceremony for the Class of 2020 will be at Harrisburg High School during Homecoming. This will be the 8th year for this event. Thus far, 46 former Tiger individuals and teams have been inducted into the Hall of Fame.
In addition to being honored at an open house, inductees will be presented to the public at halftime of a football game in Tiger Stadium.
The Hall of Fame Committee does not nominate the candidates. Instead, any person with an interest in nominating a Harrisburg High School alum/team in the categories of: Athletics, Fine Arts, Mentor (includes advisor, coach, director), or Contributor/Teacher/Administrator/Business Sponsor/Community Supporter/Alumni/Friend of the School District may submit a nomination. All nominations must conform to the Hall of Fame Nomination Guidelines available on the form.
Nominations must be mailed or hand-delivered to Harrisburg High School, ATTN: Hall of Fame Committee. Submissions must be postmarked or hand-delivered no later than April 15 to be considered this year.
Once all nominations are received, the Selection Committee will meet to review the submissions and vote on candidates for induction this fall. Nominees who are not selected will remain active candidates and be voted on annually.
Hall of Fame Class of 2019
Denny & Judy Sisson
Community Contributor
Denny & Judy Sisson moved to Harrisburg in 1973 and instantly became part of the fabric of our community and have called Harrisburg home ever since.
Denny and Judy have two daughters, Amy (HHS 1990) married to Travis Brown and Angie (HHS 1992) married to Jeremy DeCurtins. Each of their 5 grandchildren also attend Harrisburg, Tanner Brown (HHS 2017), Megan Brown (HHS 2020), Cody Brown (HHS 2023), Beckam DeCurtins (HHS 2025), Berkley DeCurtins (HHS 2028).
Denny and Judy have been dedicated servants to the Harrisburg community and school district. Denny served as a school board member from 1986 – 1992. They have both been members of the Harrisburg United Methodist Church since moving to Harrisburg.
Denny and Judy own and operate Sisson Printing located in Sioux Falls. Since opening their business, they have been and continue to be very generous and gracious supporters of the Harrisburg School District and community.
Congratulations to Denny and Judy Sisson on being inducted into the 2019 Harrisburg Hall of Fame! We are honored to have them be a part of this legacy and appreciate all the support, friendship, generosity, and love they have shown throughout their years in Harrisburg.
Go Tigers!
2019 Hall of Fame Inductees
With Homecoming 2019 coming up in just a few weeks, here are our inductees along with their bios. Join us in honoring our inductees on Friday, October 4th during the football game.
Male Athlete

Albert "Al"Dirks (1957)

Teacher/Mentor

"Miss B" Yvonne Behrends

(Retired 1999)

Community Contributor

Denny & Judy Sisson

Male Athlete

John McGee

(1985)

Female Athlete

Valorie Hoffman

(1980)

Female Athlete

Nicole Sittner Osmundson (1988)

Fine Arts

Jeremy Brech

(2000)

Team Achievement

1987 Basketball Team

Championship Team

1984 Cheerleading Team
VERMILLION - When Sami Slaughter decided to transfer from the University of Nebraska late last year, she did so with a new destination already in mind: South Dakota. The 6-foot-1 outside hitter had been recruited by Coyotes coach Leanne Williamson as a high schooler and already knew a few of the players, including incoming freshman Brooklyn Bollweg, her former prep teammate at Harrisburg.
Noah Deist is an independent singer and songwriter from Sioux Falls, who just released a new single called "Just Go." The music video for the new single was shot locally in Sioux Falls by DewyFilms. You can watch it here.
Visit a Class Page

Just log on or register today!

Your direct source for Class events, discussions, member directory and more.
Check out our look back on the Harrisburg of yesteryear here.
Congratulations, Fink Brothers!
Congratulations to Harrisburg brothers Rollie Fink ('73) and Rick Fink ('80) on their induction to the South Dakota Wrestling Hall of Fame! These two have contributed many decades of support to grow the sport of wrestling through coaching and refereeing. Congratulations on this well deserved recognition at the 2020 SDHSAA State Wrestling Tournament!
Photo/Post courtesy Jon Klemme.
Tiger To Tiger - Giving Back
Are you in a position to give back to your alma mater? Harrisburg prides itself on developing pathways for all of our learners to reach their full potential, and along with that, developing partnerships with local businesses and community members. We want to give our Tigers as many opportunities as possible to explore careers and create relationships with potential future employers.
If you are interested in partnering with the Harrisburg School District, please contact Travis Lape.
Site Administrator / Community Manager
Latest Messages & Discussions
Harrisburg Alumni Pages and Links
Alumni and School Clothing and Gear